Home
Welcome to my website, and I do hope you enjoy your visit. Even though my previous cyber home was very nice, I decided that a site that was all inclusive would be better. That way people wouldn't have to go to different places for my BLOG and for information about my BOOKS and my EDITORIAL SERVICES.
If you would like to contact me for a review or editing, or just to say "hello" you can do so at:  maryann@maryannwrites.com
When I found this picture, I thought it was an appropriate illustration since I did start writing with a pen and paper those many moons ago before computers.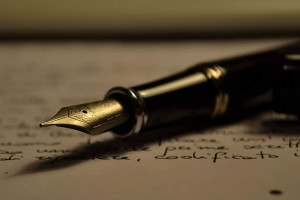 While I now write by typing on a keyboard, I still love the look and feel of a fine fountain pen.
Most days I can be found in my office, typing away on said keyboard, but sometimes other commitments take me away from that daily routine, and I have been known to snarl just a bit when that happens. We writers tend to be a bit obsessed about the need to be working, but it is true that if we are removed from the creative process for long periods of time, we become stale.
We never want to do that.
Stale is bad for brownies and bread and stories.
~~~~~~~~~~~~~~~~~~~~~~~~~~~~~~~~
My new book, One Perfect Love is still available for only 99 cents for Kindle, and it will go up to $1.99 the end of December. This is the sequel to One Small Victory, the e-book of which is also temporarily discounted to only 99 cents until the end of December. Don't miss out on this great deal! Both books are available in paperback, too, and I can send signed copies of the set for only $15 plus shipping. Just e-mail me at maryann @ maryannwrites.com to order.
I love this graphic that was designed by the nice folks at The Romance Studio, where very fine romance novels are featured. Here is a link to my blog piece there The Story Behind the Story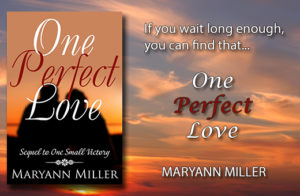 ~~~~~~~~~~~~~~~~~~~~~~~~~~
Calling all writers!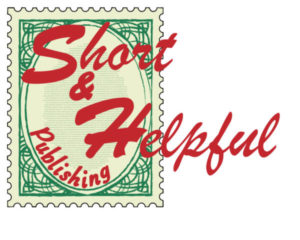 S&H Publishing, a company I have a story with, is ready to launch a webinar series on October 1. Each month a new workshop will be available, covering all aspects of the craft of writing.
Even after all these years of writing, I learned something new from previewing a couple of the webinars!
I will be doing a webinar on editing in June, and you can find a full list of the workshop topics and presenters at  www.sandhbooks.com/online-writer-workshops/
~~~~~~~~~~~~~~~~~~~~~~~~~~~~~~~~
What a nice surprise it is to get a message like this from a reader:
"I've only known you to be wrong once, when you told my wife, Denise, that I may not like
"Boxes For Beds"
like I did your others.  You seem to span time and distance like none I've ever read, more, please.
Can't wait for more,
Your Fan  Ron Miranda
Thank you, Ron. I appreciate the kind words.
~~~~~~~~~~~~~~~~~~~~~~~~~~~~~~~~~