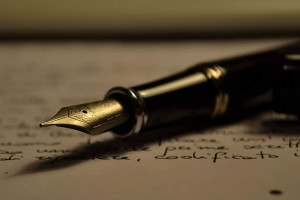 Welcome to my website, and I do hope you enjoy your visit. Even though my previous cyber home was very nice – thanks to the amazing artist, Dany Russell – some time ago I decided I wanted a site that was all inclusive, so people won't have to go to different places for my blog and for information about my books and my writing. My son, Paul, accepted the challenge of getting a new site on WordPress, so here we are.
When I found this picture, I thought it was appropriate since I did start writing with a pen and paper those many moons ago before computers.
While I now write by typing on a keyboard, I still love the look and feel of a fine fountain pen.
Most days I can be found in my office, typing away on said keyboard, but sometimes other commitments take me away from that daily routine, and I have been known to snarl just a bit when that happens. We writers tend to be a bit obsessed about the need to be working, but it is true that if we are removed from the creative process for long periods of time, we become stale.
We never want to do that.
Stale is bad for brownies and bread and stories.